Fuller's earth transformer oil regeneration plant CMM-R (capacity 200 – 6000 LPH). Oil regeneration theory and practice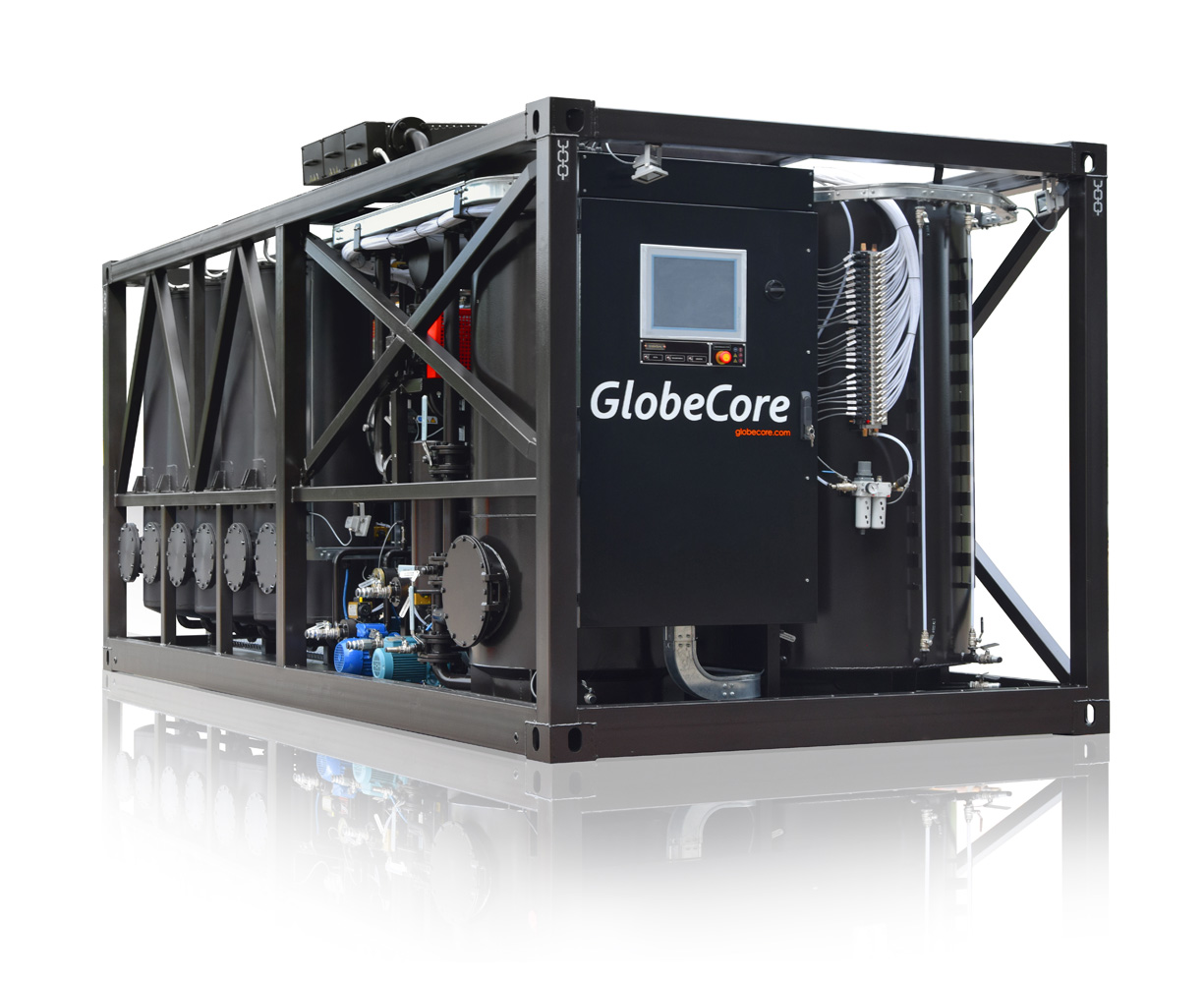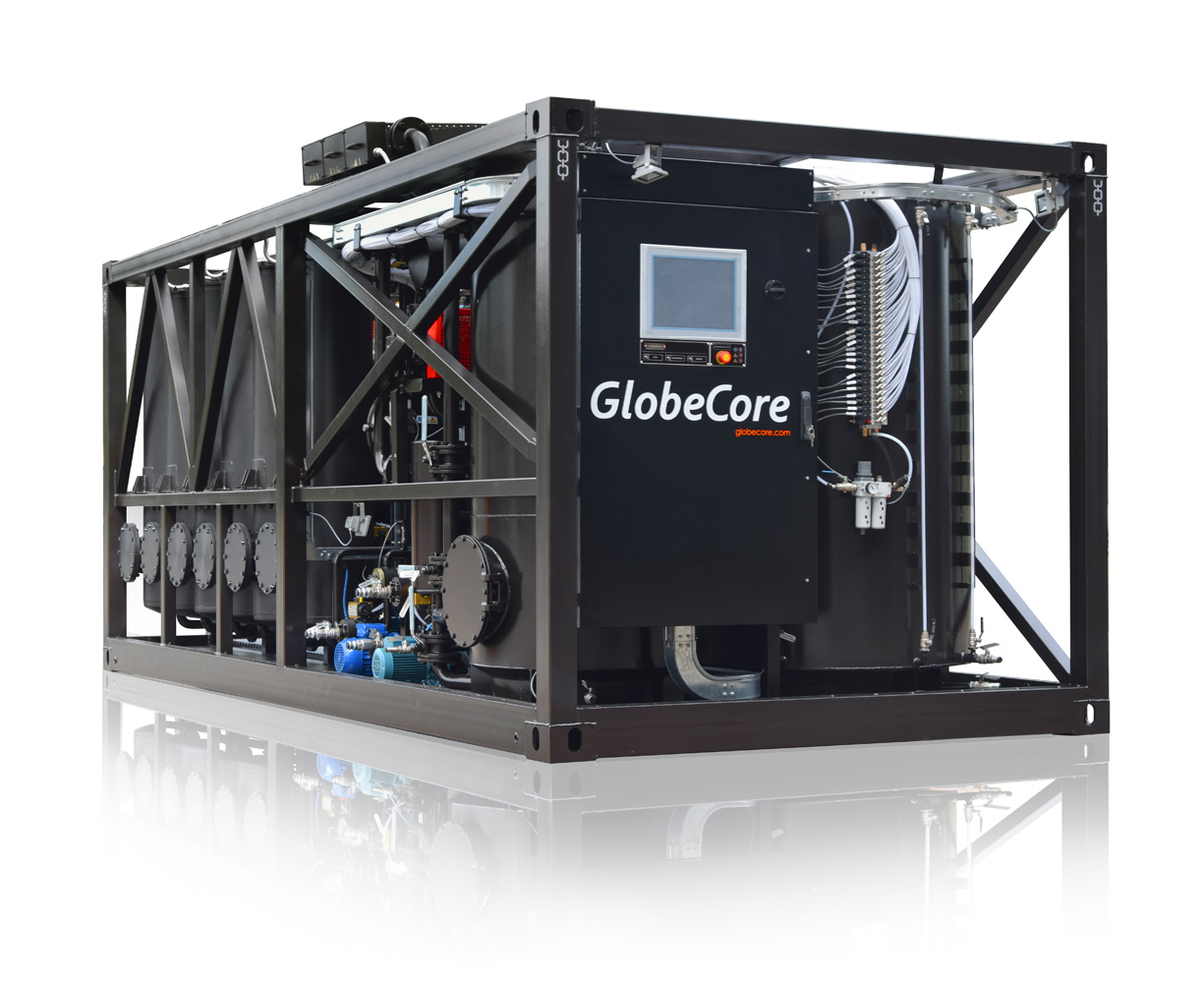 Fuller's earth transformer oil regeneration plant CMM-R (capacity 200 – 6000 LPH)
GENERAL: oil-immersed apparatus treatment
CMM-R Transformer Oil Regeneration Plants are designed to improve dielectric strength and chemical composition of insulating oils. It is important to maintain oil properties within the recommended standards to prevent weakening of cellulose insulation by products of oil degradation. Since the life of the transformer is determent by the state of cellulose insulation, intervention is necessary to prevent sludge from destructing chemical bonds which hold the cellulose together. Oil Regeneration allows to remove sludge (which is formed as a result of oil degradation (aging) and consists mainly of acids, aldehydes and peroxides),  improve acidity level and decrease oil's ability to dissolve gases.
Comparing to older technology where Fuller's Earth is used only once and then must be disposed of together with oil and harmful contaminants, CMM-R plants utilize the principle of sorbent (Fullers Earth) reactivation and have a number of unique features:
regenerate the oil on energized transformer;
remove sludge from cellulose insulation;
reactivate the sorbent (Fuller's Earth) allowing the
sorbent to stay in the plant for 2-3 years before replacement is needed;
oil regeneration and Fuller's Earth reactivation is fully automatic — it dramatically changed the oil regeneration theory;
disposal of sorbent is environmentally friendly and safe as Fuller's
Earth is free from oil and contaminants.
Technical specifications

Parameter

Value

1. Max. oil flow speed through the plant, m3/h

6

2. Duration of sorbent reactivation, h

16

3. Max. power consumption, kW

45

4. Sorbent total amount, kg

1500

5. Oil amount using for sorbent reactivation, % from processed

0,5

6. Theoretical ratio of amount of the processed oil to amount of the
sorbent, kg/kg

1/4

7. Theoretical amount of sorbent reactivations

300

8. Dimensions, not more  mm
– Length

5150

– Width

2090

– Height

2102
Main principle of Oil Regeneration is to draw oil through the sorbent (Fuller's Earth). During this process oil undergoes "molecular filtration" in the microporous sorbent. By-products of oil ageing are removed and stay in the Fuller's Earth granules.
After the sorbent has accumulated certain amount of contaminants, CMM-R plant switches into sorbent reactivationmode. This unique fixture allows to regenerate oil continuously and managed by software installed on the operator's laptop or plant's PLC.  Reactivation of the sorbent is fully automated and enables the plant to process oil using the same Fuller's Earth up to 300
times which is equal to 2 or 3 years of operation before sorbent replacement is required. Fuller's
Earth is a clay occurring in nature and possess no environmental danger and can be disposed as a construction waste after it exhausted it sabsorbing properties.

System's efficiency and reliability allows to  treat any mineral transformer oil to comply with all relevant international standards (please see table below). CMM-R Plants provide better alternative to oil replacement as treated oil parameters in most cases surpass those offered by new oil. As a rule timely oil regeneration extends transformer's life by 25 to 30 years. Oil regeneration theory sugests 7 years increasing even for power transformers used in marine conditions at offshore platforms.
Table below shows typical oil parameters before and after treatment.
Parameter

Test Methods

Before
regeneration

After
regeneration

Appearance

Visual

Cloudy
brown

Clear
and transparent

Acid number, mg КОН/g

IEC 296; ASTM D-664

0.63

0.01

Corroding sulfur

ISO 5662; ASTM D-1275

Gained

None

Mass moisture content, ppm

IEC 733; ASTM D-1533

170

5

Breakdown voltage, kV

IEC 156; ASTM D-1816

11

73

Dielectric loss tangent for
90ºС

IEC 247; ASTM D-924

4.0

0.001

Bulk gas content, %

IEC 60599; ASTM D-3612

12

0.1

Surface stretching, Н/m, for 25ºС

ISO
6295; ASTM D-2285

22

45

Mechanical contaminants size, micron

50

5

Oxidizing steadiness:Acid number, mg КОН/g

IEC 1125А; IEC 1125B; IP-307

—

0.2
PLANT APPLICATION
GlobeCore's Oil Regeneration Plants are design to carry out regeneration on energized and de-energized transformers as well as on tank to tank basis. This system is ideal for waste oil disposal.
Regeneration of Oil in transformer
Oil shall be taken and tested at the beginning of oil regeneration inside a transformer. The results will show duration (number of passes) required to regenerate the oil. Dissolved gas results will indicate whether transformer may be treated in energized or de-energized state.
Usually Regeneration Plant is used on 50 % to 80% of its production capacity while treating energized transformers to ensure laminar movement inside of transformer oil tank. With average oil characteristics it takes 8 to 10 passes to regenerate oil to "like new" conditions.
While treating de-energized transformers the Plant can be used on 100% of its production capacity.
Desludging
Desludging of transformers requires oil temperature to be above aniline point usually around 80 C. Constant circulation of oil shall be maintained during desludging and oil must be new or regenerated.
This process will be more efficient on energized transformer as winding vibration and generated heat will also help to remove sludge. With average oil parameters it takes 10-20 passes to desludge energized transformer and up to 50 passes on de-energized transformer.
Tank to tank Regeneration
After a time period when oil is left in a storage tank to settle out suspended solids and free water regeneration is carried out on 20-25% of the Plant's production capacity to regenerate the oil to "like new" conditions in 1 pass.
 Available Models
Model
Degassing Unit
Regeneration Unit
Model
Capacitylitres/hour
Model
Fuller's earth amount, kg
СММ-2R/600
CMM-0,6
600
СММ-2R
300
СММ-12R/4000
CMM-4
4000
СММ-12R
1600
СММ-12R/6000
CMM-6
6000
СММ-12R
1600
СММ24R/10000
CMM-10
10000
СММ-24R
3600
PLANT'S DESIGN AND OPERATION
CMM-R comprises degassing and regeneration units.
Plant's design allows for stationary as well as mobile operation when mounted on roadworthy trailer.
CMM-R is fully controlled via SCADA system from a Laptop positioned within the Operators
compartment and a touchscreen on the control panel. Unit has automated mode with Air Compressor automated control system as well as manual operational mode.
During operation degassing and regeneration units shall be connected to a transformer. Oil is drawn into degassing unit where it is heated to operational temperature and filtered. Oil is than pumped into regeneration unit and back to degasser for moisture and dissolved gasses removal.
Plant's design includes Fuller's Earth reactivation insitu for continuous reuse of Fuller's Earth. Fuller's Earth regeneration facility will allow oil processing to be carried out using 1 set of columns whilst the other set is reactivating.
Alternatively oil processing or reactivation could be carried out in all columns.

CONNECTION DIAGRAM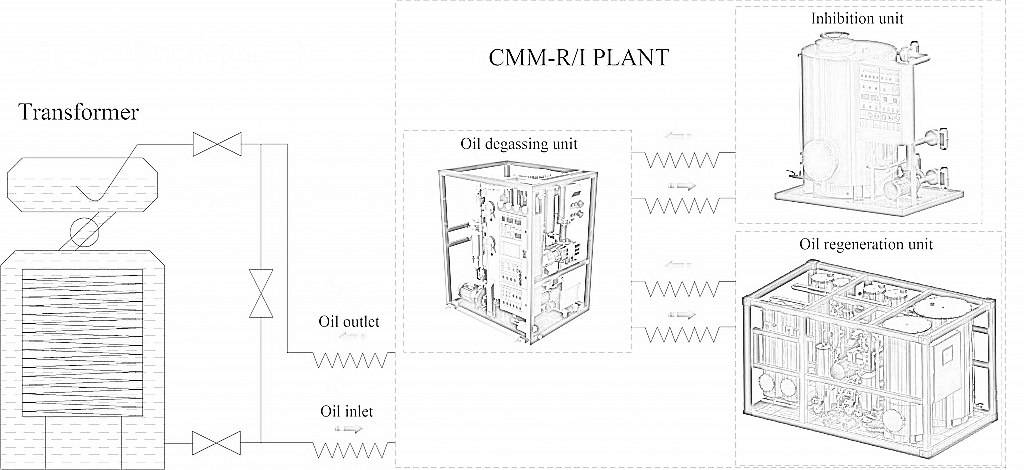 SYSTEM OPTIONS
Transformer Level Monitor
The Plant itself does not change oil level in the transformer tank. But if oil level drop in the transformer tank occurs, due to damaged pipes or seals, Transformer Level Monitor will shut down automatic valve installed at the bottom of the transformer and prevent oil drainage from the transformer.
Generator
Power generator provides ability to operate the plant without external power source.
Cable Reel
Manual or motorized cable reel with 50 m of cable is provided for ease of cable handling.
Additive Injector (Inhibition Unit)
To inject additives (inhibitors) removed from oil during regeneration Additive Injector (Inhibition Unit) is provided.
Moisture Analyser
To continuously monitor moisture level in the treated Moisture Analyser is available with one or two probes for inlet only or for inlet and outlet. Analyser's readings are displayed on operator's laptop and on the control cabinet's touchscreen. Alarms could be set for certain values to constantly monitor moisture level and alert operator if this values are higher than required.

Consumables
Set of coarce (5 micron) and fine (2 micron) filters is provided as standard and sufficient for 5 years of operation. 2 sets of spare parts (one for Regeneration Unit and another one for Degassing Unit) are supplied to ensure efficient and trouble free operation of the plant.