Transformer oil purification system CMM-0.6 (capacity 600 LPH)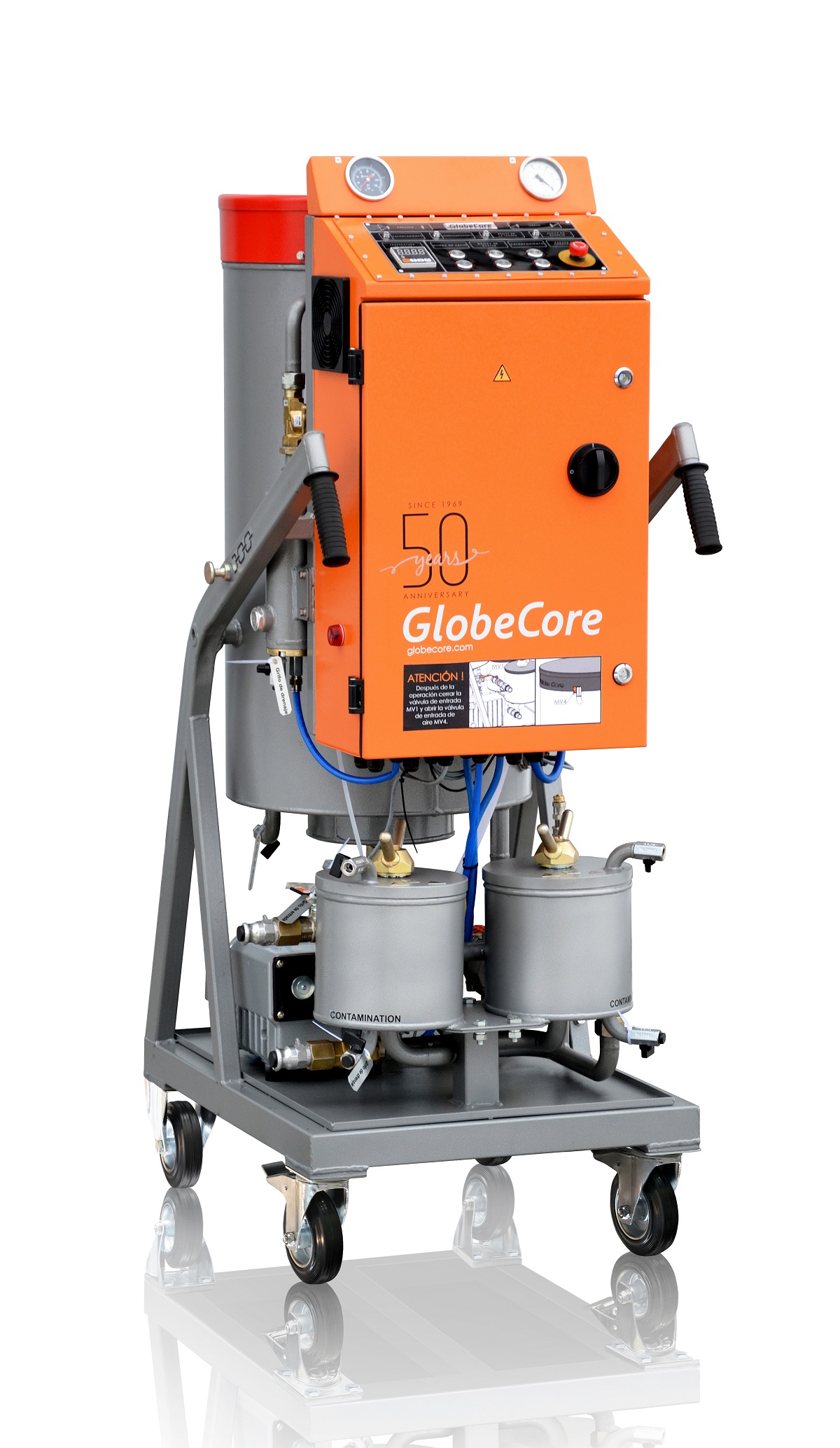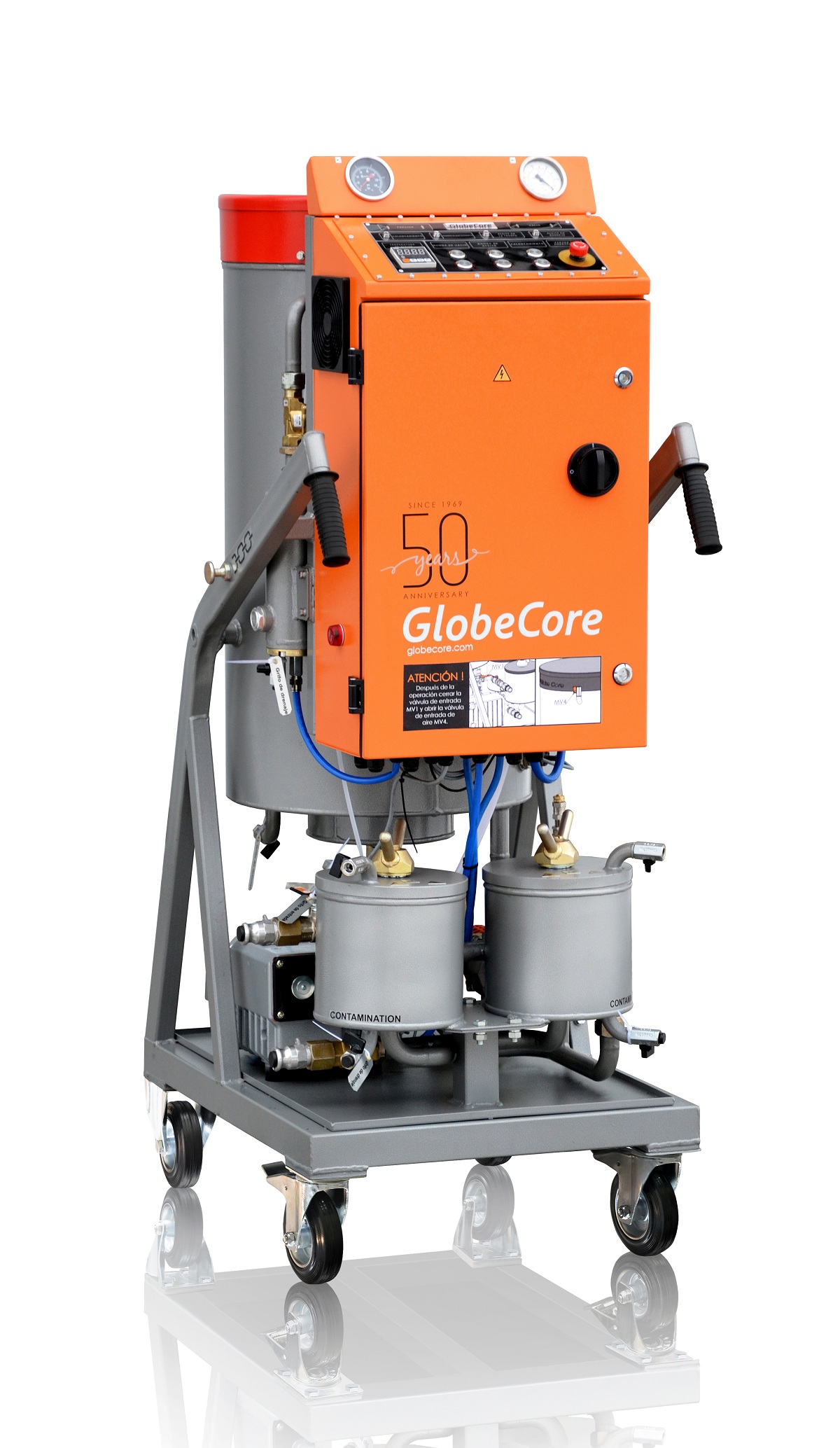 CMM-0.6 plant for purification of transformer, turbine, and compressor oil and lubricants. This equipment is designed for processing oil with viscosity less than 70 cSt at 50°C.
Usage of any oil results in its oxidation and  accumulation of various mechanical impurities. Under the influence of heat aging of transformer oil is accelerated. The product is oxidized and oxidation sludge appears. Water is formed as a result of these reactions. Moisture can also get into oil from the air. Even a small amount of water reduces the dielectric strength of insulating liquid. Similar processes occur in other oils: turbine oil, lubricating oil and compressor oil. They are also subject to oxidation, water invasion and mechanical contamination, as they are used for operation in harsh and adverse conditions. Operation with the contaminated oil is fraught with a variety of negative consequences – such as accidents, all kinds of equipment breakdowns and downtime. This causes huge amounts of money spent, originally not included into the enterprise's budget.
GlobeCore company practices preventing problems rather than dealing with its consequences. This principle could not be better implemented in СММ-0,6  oil purification plants. This equipment is designed to remove moisture and solid contaminants from transformer, turbine, compressor oils and lubricants.  Monitoring the condition of operating oil and purifying it using СММ-0,6  plant can slow the aging process and prolong the oil service life. Thus, the use of GlobeCore technologies allows, firstly, to improve operation reliability of oil-filled equipment, and, secondly, to save funds for purchasing fresh oil. The volume of oil products for disposal is also significantly reduced.
Any manufacturing process can have its own specifications. Therefore, GlobeCore is always ready to produce customized oil treatment plants. The models are shipped directly from the warehouse. The main production facilities of GlobeCore are based in Oldenburg (Germany).
The plant can be successfully delivered anywhere in the world.
GlobeCore also provides services for staff training of and post-warranty repair of oil purification equipment.
Are you:
Director of the company engaged in installation, repair or operation of oil-filled equipment. Are you interested in reducing spendings on new transformer oil and disposal of used transformer oil? Do you want to use  innovative solutions and gain  new profits?
Buyer, Supply department manager. You have to please management with finding the best deal on price and quality and at the same time establish and maintain a good relationship  with suppliers?
Electrical Supervisor General responsible for maintenance and repair of electrical equipment.  Are you interested in equipment performing with minimal breakage
Health and Safety engineer. You are interested in protection of your employees' health and absence of claims from environment protection organisations?
If your answer  "Yes" to these questions, then we are on the same page!
CMM-0,6  oil purification plants –  will help to solve your tasks!
Over the years, our company has established friendly relationships (both corporate and personal) with our customers.
What do you need – to start our equipment working for you?
Call us or send us an email to discuss your order.
Our qualified personnel will offer specifications and prices and set the production time.
Our stuff will be happy to  meet  you at our offices.
Our engineers will come to you to start up the station at your enterprise.
Advantages of GlobeCore СММ-0,6 transformer oil purification plant:
Increases  transformer oil breakdown voltage up to 65 kV.
Reduces water content in oil from 100 g/t to 10 g/t after one cycle.
Removes mechanical impurities larger than 5 microns or 0.3 microns (optional).
Extends oil life and improves oil-filled equipment;
Due to their small size the plants can be used to process oil in remote locations.
Mobility.
Easy to operate and maintenan.
Short delivery time.
Competitive price.
Uses parts produced by leading world manufacturers.
Saves storage space for waste oil.
Saves costs on buying new oil and recycling waste oil;
Preserves environment
Energy efficient.
Qualified consultation of designer both before and after purchase, during the service period.
Table 1 Technical specifications of СММ-0,6 type oil purification plant
№

Parameters

Value for the model

СММ-0,6

1
Capacity, m3/h, not less than:
– in Drying and Filtering Mode

0.6

– in Filtering Mode

0.6

2

Maximum temperature of the filtered oil, ° C

60

3
Processed oil parameters:
– mass moisture content, g/t, not more than

10.0

– industrial cleanliness class (ISO 4406), not less than

9 (-/15/12)

4
Nominal filtration fineness, micron

3…5

5
Height of oil supply with respect to the outlet fitting, m

20

6
Oil heater power, kW, not more than

15

7
Maximum power consumption, kW

18

8
Supply voltage at three-phase AC, 50/60 Hz, V

380/220

9
Overall dimensions, mm, not more than length/width/height

1400/700/ 1700

10
Weight, kg, not more than

400
Frequently Asked Questions:
1) What solutions can you offer – if I need to process oil in hazardous conditions?
GlobeCore produces explosion-proof version of СММ-0,6  plant, specially designed to eliminate the possibility of ignition in the surrounding explosive atmosphere during the operation.
2) Is it possible to get better operating parameters of transformer oil than indicated in the specifications of GlobeCore equipment?
It is possible. Doing multiple cycles improves oil processing. For example, after one cycle the moisture content is reduced from 100 g/t to 10 g/t, and after three cycles – up to 5 g/t.
3) How long does it take to produce an individual order?
The production of an individual order doesn't exceed 45 days.
4) What is the warranty period?
Generally, the warranty period does not exceed 12 months.