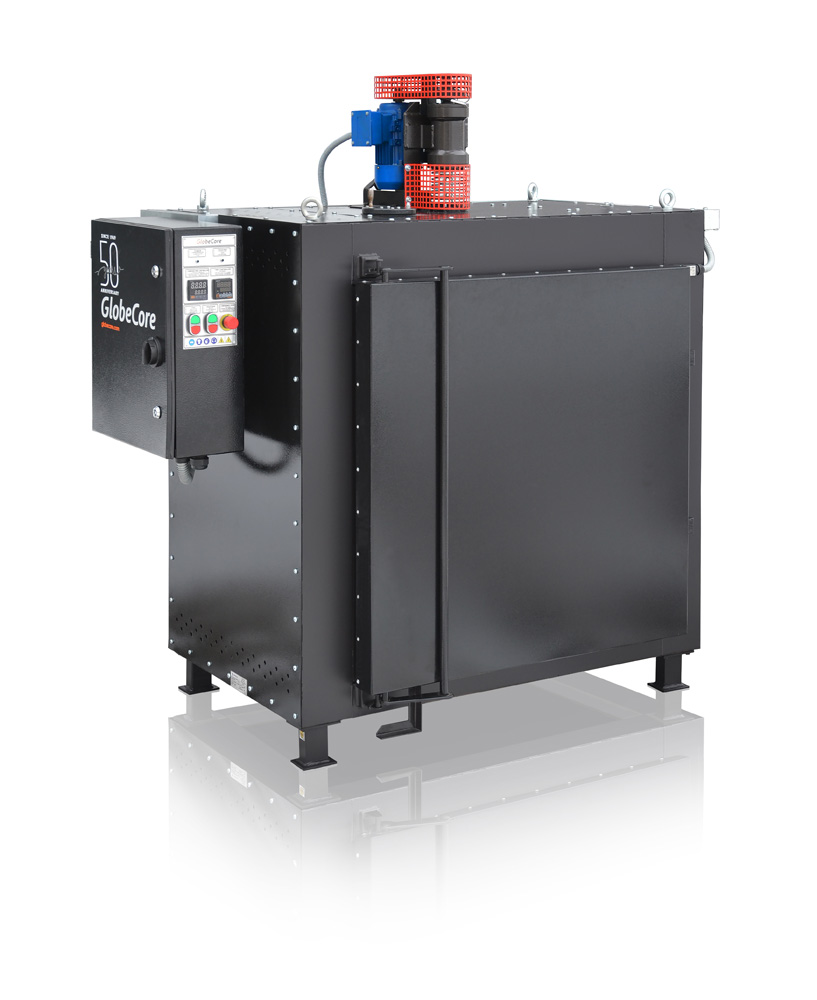 SSC-15 cabinet is for electric power utilities and gas processing plants. This device is designed for preliminary drying zeolite, used for deep dehydration of fuel oils and natural gas.
Zeolite is microporous aluminosilicate – which differs from other adsorbents because it can  selectively adsorb molecules. That's why it is also called a "molecular-sieve". Zeolite crystal is covered in channels and cavities in 50% . Owing to this they have a high adsorptive capacity. Zeolite is a very effective drier, better than silica gels and active aluminum oxide.
One of the most important zeolite features is its ability to dehumidify liquids with low moisture content. Zeolite has a higher heat resistance compared to other sorbents.
In electric power industry zeolite is used for oils dehydration. It is recommended for air-drying filters and hydrogen cooled generators in gas industry. In many cases – the possibility to substitute usual sorbents with zeolite allows to avoid the`cooling stage of dehydrated gas and consequently to reduce energy consumption and simplify the process.
Zeolite is characterized by a high speed of moisture absorption. A high dehydration  is maintained practically during the whole process. Moisture content at the end is increasing not gradually, but suddenly and quickly. So it is possible to use zeolite adsorptive capacity to the full extent.
Preliminary zeolite dehydration is performed with the help of Zeolite drying cabinet-15. This dehydration helps to improve adsorptive features of zeolite. Besides, this cabinet can be used for  drying electrodes as well.
Zeolite drying cabinet 15 is designed for usage at:
outside temperature 0 to 35ºС;
atmospheric pressure 630 to 800 mm of mercury (Torr).
The casing of the cabinet is made of sheet steel. The cabinet has a drying chamber. Two heating units are installed at both sides of this drying chamber. At the back panel there is a fan, designed for the airflow in the chamber from electrical heaters through the holes located at the side panels. In order to reduce heat loss the casing is heat-insulated.
Zeolite drying process is controlled by a modular-packaged unit, which is placed on the wall near the drying box.
Technical characteristics of zeolite drier SSC-15
№

Parameter

Value

1
Zeolite, dm3

130

2
Trays inside cabinet

12

3
Heating power, kW (kilowatt)

14,4

4
Temperature control range, °С

Up to 250

5
Fan power, kW (kilowatt)

0,18

6
Voltage at the current frequency 50 Hz, V

380

7
Weight (without zeolite), kg, no more than

370

8
General specifications (metric)
– overall length

1500

– overall width (door closed)

1000

– overall height

1100
The drier of Zeolite drying cabinet 15 has a number of better options which were not available in the previous model. They are :
heating temperature increased to 400ºС;
automatic temperature control ± 9 ºС;
a door screw lock available to improve hermetization;
Convenient design allows to remove trays, thereby making it possible to use the cabinet for other tasks : heating, hardening and baking.
At the customer's needs and requirements the drier can be equipped with:
Heating elements up to 800ºС, allowing to extend the range of chamber application;
automatic door control, preventing the dryer door opening until it cools down. Protecting the staff from getting burns.