Transformer oil coalescer filtration systems CMM-F (capacity 600 – 4000 LPH)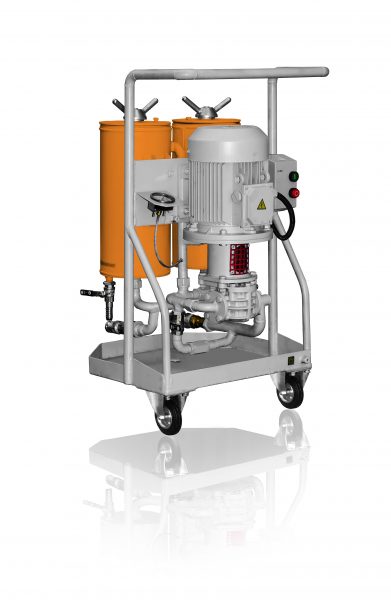 Our main expertise has enabled us to come up with high quality Transformer Oil Filtration Machine. The offered products are manufactured keeping in mind the exact requirements of customers. These products are manufactured using optimum-grade components and spare parts so that these are in compliance with international quality standards. Our range cleans oil and removes contamination and free water.
Quick Details
Type: Suction Filter
Structure: Vacuum
Place of Origin: Germany
Brand Name: GlobeCore
Model Number: CMM-F
Packaging & Delivery
| | |
| --- | --- |
| Packaging Detail: | wooden case |
| Delivery Detail: | 45 days |
Specifications
Oil purification plants are used to remove impurities from transformer and switchgear oil such as moisture, dirt, gas and acid.
We manufacture oil filtration plants of variable capacities of 600 to 10,000 LPH and oil regeneration plants of capacities of 200 to 6,000 LPH. Our oil purification plants are available in different types of constructions such as open & enclosed models, stationery, portable & mobile models, with single & double stage degassing / dehydration system.
GlobeCore oil treatment machines are engineered to meet your specific needs.
Our customers are Transformer manufacturers, Transformer repairers, Transformer owners.
Other Details:
A centrifuge cannot remove emulsified water from transformer oils, which acts as a catalyst to increase oxidation, causes foaming in oils and reduces component life
One of the major problems of continuous water presence in the oil is formation of varnish, which is a thin insoluble film deposit that is usually found on bearings and servo-valves
It is a high molecular weight substance that is insoluble in oil. Varnish insoluble are more than 75 percent soft contaminants that are less than 1 micron in size and are not measured by traditional particle counts. Insoluble compounds have polar affinities and begin to migrate from the body of the base oil to machine surfaces
Initially, the surfaces start to show a golden or dark brown color, which then changes to darker gum layers that hardens into lacquer. Varnish cannot be removed by a centrifuge. It can choke turbine oil filters, servo pencil filters, reduce bearing life, cause servo directional valves to stick & fail and can even cause turbine shut-down
Varnish's propensity to attract dirt and solid particle contaminants increases component wear. Varnish's insulation effect causes loss of heat transfer in heat exchangers
Technology Of Oil Filtration machine
Oil filtration machine adopts pressure purification or vacuum evaporation,the pressure filtration type mainly remove solid impurities and the vacuum type remove water. It is mainly used to improve insulation value of transformer oil and cleaness of lubricating oil. and lubricants. The oil filtration machine is divided into ordinary machine and vacuum machine, they are mainly used in power plants, power plants, industrial and mining enterprises for turbine oil and lubricating oil purification and regeneration. Particularly suitable for severe aqueous or turbid emulsified turbine oil, hydraulic oil, antiwear oil, bearing oil and the high-viscosity lubricant oil purification treatment, ann can effectively remove the moisture and impurities in the oil, so that the turbidity of fluid becomes clear.