Historical facts
Adsorption purification was first applied in order to remove asphalt and resinous unwanted substances from oil fractions in the early years of the modern oil industry.  At the very beginning, bone coal was used to lighten kerosene and heavy-oil products.  But, as time went on, Bone Coal was replaced by Fuller's Earth and the Fuller's Earth turned out to be more effective during the purification of cylinder distillates performed in 1893. Nowadays, adsorption purification is often applied to remove the resinous colored substances from lubricating oil.  During the percolation process by the Fuller's Earth, oil fractions are divided into parts that differ in color, specific weight and other properties.  It was David T. Day who first described this phenomenon in an article that drew oil recycling process researchers' attention to the properties of Fuller's Earth.  For example, another reasearcher named Kaufmann, discovered that the first portion of cylinder oil, filtered by the Fuller's Earth, had lower density and viscosity and less coke value than the following fractions. The properties of each new portion more and more resembled the properties of the source raw material.  It has been established that the properties of the substance were changed because sulfuric, nitrogenous, oxygen-containing compounds, as well as polycyclic and aromatic hydrocarbons, were being absorbed selectively. Nowadays, such processes as contact purification and percolation are based on this time tested principle.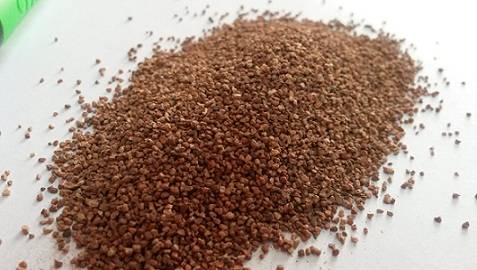 The Fuller's Earth sorbent materials
In the course of contact purification, oil makes contact with the adsorbent for some time at a pre-set temperature. At the next stage, unwanted adsorbent components separate from the oil product. During the percolation phase, oil runs through the column of Fuller's Earth under pressure that provides the necessary flow rate.  The adsorbent grains are used to carry out this process.  The fine-grained earth can be applied only during contact purification.
Fuller's Earth Reactivation: Is it Possible?
There are about 35 to 40% of resinous and oil substances left in the Fuller's earth after an oil treatment cycle.  It makes no economic sense to dispose of the contaminated product or buy new sorbent after each oil purification process.  Firstly, it will cost much money and efforts to buy new Fuller's Earth all the time.  Secondly, the disposal of contaminated sorbent is time-consuming and requires significant expenditures. With this in mind, the engineering department at
GlobeCore
has developed a unique technology that completely reactivates the
Fuller's Earth
sorbent materials without removing the material from the oil regeneration columns! This advanced
GlobeCore
technology allows the sorbent to last and be used over and over again for between 2 and 3 years (up to 300 cycles) with no impact on the oil reclamation process.  This is the revolutionary feature that distinguishes
GlobeCore
's
machines from the machines of other manufacturers.  The Fuller's Earth however, cannot be used indefinetly.  When it is finally exhausted after years of service, the Fuller's Earth can be disposed of as "
Non-Hazardous
" waste. The following reflect some of the laws and regulations that determine the management and disposal of exhausted in the European Union countries.
Exhausted Sorbent Management in Europe
Waste Management has been considered to be one of the key priorities of the European Union (EU) since it was founded.   In countries such as Germany, Austria, Denmark, Finland and Italy, waste management has been tightly regulated by the state since the early 1990s. Generally speaking, two special documents such as (1) waste regulations and (2) hazardous waste regulations, determine the way waste is managed in the countries of the European Union (EU). There are some regulations that have been adopted to govern the management of special waste.  It is therefore, the members of the EU that have to improve or draft legislation so that the member nation can fully comply with the purposes and requirements of the EU regulations. All the different wastes are divided into two classes: (1) hazardous; and (2) non-hazardous.  The way the exhausted Fuller's earth is managed is determined by the class of the wastes it belongs to.  It is clear that the rate of the sorbent's hazard is determined by the amount and composition of oil that it contains.  For example, in Germany, oil is determined as hazardous waste if it contains more than 20 mg/kg of
PCB
's (polychlorinated biphenyls).  These substances are collected and delivered to special collection centers which have them recycled by special hazardous waste handling companies. Generally, people deliver hazardous waste to the collection centers themselves, but if it is an industrial facility,  hazardous waste is taken by special machines and containers directly from the site. In some countries of Western Europe, recycling is considered to be the main method of hazardous waste management.  In other countries however, they are buried and/or burned. To comply with the requirements of waste dumping rgulations, many countries require that the waste be stabilized by reducing the amount of hazardous substances in the waste in order to meet acceptable levels.  Waste stabilization may be performed by physical and/or chemical treatment. In South Australia, the used, oil-containing, sorbent is managed according to the 'Environmental Protection Act' of 1993.  Article 25 of the Act determines common '
environmental (
also called
'green') taxes,
' that should be imposed on individuals whose activity results in environment pollution.   Additionally, it requires all reasonable measures to be taken to prevent and reduce the amount of hazardous waste generation. If the used sorbent contains a small amount of oil  (up to 0.1m3), it may be disposed of as solid waste at a waste collection center.  The latter should have a license to carry out such processes. Therefore, before the sorbent is disposed of, it should be (1) tested to determine the toxicity; and (2) extracted. The results will show if it is possible to mix the exhausted sorbent with other industrial wastes when collecting, transporting or recycling them at collection centers. If there is more than 100 kg of the sorbent, and it is contaminated with fluid that contains light and medium hydrocarbons, this waste should be delivered to special facilities to be treated or disposed of in accordance with current laws and regulations. In case of any doubts, please, consult the specialists on the environmental hot line. In the USA, used sorbent disposal procedure differ among the states. In 2012, the California Department of Natural Resources issued a special document, called
"Used oil filters and adsorbents. Questions and Answers."
 It reflects the basic principles of oil-containing materials management such as exhausted Fuller's Earth.   According to this document, the disposal of absorbent that contains waste oil is forbidden in landfills. The following are exempt from those prohibitions:
Exhausted sorbents with no visible signs of oil content;
Non-hazardous sorbents;and
Sorbents that were cleaned to remove oil.
Apart from landfills, there exist other possible ways to manage exhausted sorbents.  In particular, some companies that are engaged in adsorbent production also collect exhausted material in order to purify it. Used oil that has been previously removed from adsorbent can be burnned for energy recovery.  The sorbent grains can be recycled or also burnned for energy recovery at officially recognized facilities. Landfill operators should take the following measures to prevent the delivery of absorbent that contains used oil: (1)  Place warning signs against oil contaminated waste; (2)  instruct staff to look for and reject oil contaminated waste; and (3)  inform their customers about the prohibitions. A similar situation has also been observed in other states.  In the USA, exhausted Fuller's Earth is managed in the following way. First, the oil is drained and then disposed of.  After all hazardous substances have been removed from the Fuller's Earth, it can be managed as solid waste.  If Fuller's earth has not been cleaned and hazardous substances removed, it should be delivered to the officially-recognized facilities to have it purified. In Russia, exhausted Fuller's Earth management is regulated by the Act of the Ministry of Natural Resources
"Adopted Criteria for Classification of Environmentally Hazardous Waste"
and by the Federal law No. 89,
"Production Wastes and Consumption."
First, waste containing oil should be tested in a special laboratory to determine the class of hazard.  In Russia, all waste is divided into 5 classes such as: I – extremely hazardous waste; II – highly hazardous waste; III – moderately hazardous waste; IV – low-hazard waste; and V – non-hazardous waste. After that, waste is documented and delivered to special centers that are involved in landfills or in the disposing of hazardous waste. It should be mentioned that in Russia, there is a Federal Waste Classification Catalogue, where the "bleaching of clay containing oil," is considered to be the 4th class of hazardous waste.  But, since Fuller's earth may be disposed of under different operating conditions, it is necessary to test it each time. In Ukraine, used adsorbents are burnned or placed into a landfill.  Only bulk and free from clogs adsorbents may be burnned. It is therefore, adsorbents, based on polymer, synthetic, carbon fibers or polypropylene and foam plastic that are exempt from burning. You might have noticed that legislation provides only general recommendations for the waste management. So, what is the most practical way to dispose of used Fuller's Earth? Bleaching clay is considered to be a valuable raw material for cement and brick manufacture.  Tons of waterproof cement, based on used bleaching clay is in commercial production nowadays. According to the cement production formulas, about 3% of used bleaching clay is added to the mill while grinding clinker.  Different resinous substances, present in the used bleaching clay, makes cement plastic, waterproof, and hard. The experiments have shown that when adding 15 % of used bleaching clay to the source raw material, the final product will have good performance characteristics.  Used bleaching clay should be cleaned and hydrocarbons should be removed before applying it into the cement production mixture. Clay that has been cleaned of oil may be applied as a filling material in the road construction industry or as a component of insect powder in agriculture. Additionally, de-oiled bleaching clay may serve as a good raw material when manufacturing fire-clay bricks.  Such technology provides for the reduction in the fuel consumption when burning bricks.