The UVR fuel lightening system lightend, purifies, filters and removes odor from heavy fuel oil, heavy and dark diesel fuel, gas condensate, kerosene etc.
Applicability
Improving color of dark fuel oil
Improving color of dark oxidized diesel fuel
Lightening of diesel fuel after storage
Lightening of gas condensate
Removal of hydrogen sulfide odor from fuels
Purification of fuel oil
Purification of diesel fuel
Purification of gasoline fractions
Reduction of sulfur content in fuels
Purification and lightening of petroleum
Oil and petrol product processing and storage companies, producers of fuel and fuel components will find the UVR unit for purification and lightening of oil products, odor removal and some removal of sulfur, highly beneficial for their operations.
The
GlobeCore
UVR unit ensures the highest and most effective degree of purification of fuel during manufacturing and storage; after processing the fuel remains stable and do not oxidize, therefore the fuel does not become dark and does not accumulate odors.
Quality of the fuel is very important for internal combustion engines: if the fuel contains malthenes and asphalthenes, as well as other products of aging and decay, it will negatively impact the stability of the engine and its lifetime.
To make the fuel comply with standards, the UVR units should be used to purify the fuel and stabilize it.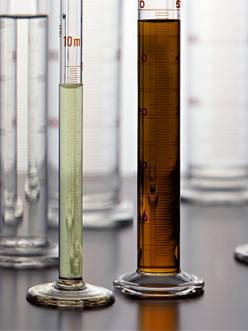 We offer both custom built and stock equipment. The stock models are available from the warehouse. The custom models are designed to client specifications and are manufactured in up to 45 work days. The GlobeCore production facility is located in Oldenburg, Germany.
Commissioning time is two days. You will need several hours to prepare communications (380 volt power, pipelines), tanks and the workplace. The unit ships worldwide by any means comfortable for the customer. Startup, commissioning and personnel training are discussed with the client separately.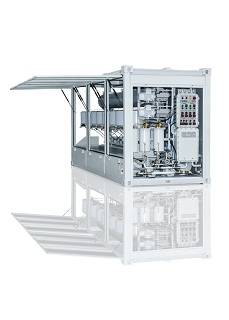 UVR-450/16V Fuel lightening unit           UVR-450/16 Fuel lightening unit
Call to discuss applicability of the equipment and place and order on Contacts page
If you are reading this, you probably are:
the owner of a fuel, oil or other oil product producing company. You are not looking for cheap or expensive solutions, you need an EFFECTIVE one, so that the investment solves problems, not creates them.

the director of a refinery, a storage terminal etc. You know what to produce and what equipment to use, how and where to buy that equipment, but for some reason you just keep postponing the decision. Since you know exactly what you need to do, just go and make the order!

a procurement specialist. You need to satisfy the management by finding the best price and quality offer, create and maintain a working relationship with suppliers. GlobeCore has built good and friendly relationships with the clients, both personal and corporate.

an engineer servicing oil refining equipment. You want the machine to perform and be reliable, so you don't have to worry about it at all. 🙂 Do place the order! Steel wears down eventually, but we offer excellent service, a spare parts warehouse and manufacturing facility: we will support you!
Here are some of the myths and reservations which we have run into regarding the UVR systems:
Can the unit be used the unit for lightening and purification of pyrolysis fuel made from rubber, PET etc? Not usually. The unit can lighten and purify only oil based products, not synthetic materials.

Can the UVR system lighten, remove odor, purify and reduce sulfur content at the same time? Of course it can. In one pass the unit does all of the above. The end product after treatment with the UVR system will be lightened, will not contain solid particles, will be deodorized, sulfur content will be reduced, therefore the UVR system is the best and the only type of equipment to simultaneously run all of the above processes.

For how long does the treated components, fuel oil, diesel or gasoline remain stable? The product remains stable for a fairly long time after purification and lightening, as a rule many parameters depend on storage conditions, but if the product is stored in compliance with relevant standards, the product will be stable from 2-3 months to half a year, in some cases a year. To verify the effectiveness and stability of oil product purification we usually invite customers to visit our facility, bring samples of their product along, so that we can purify the sample on site and see the result of processing of the specific customer's fuel. We do this because oil comes in different types and brands, every refinery is different, therefore, the refining of each product varies, which influences the process of purification with the UVR: some products are more easily purified, some less.
Do you really need a UVR system?
Do you need a crystal clear product? Do you need product deoderization? Do you need to reduce sulfur content?

Are you looking for additional income due to qualitative improvement of fuel oil, diesel fuel, petroleum and other oil products?

Would you like the machine to be better than the Chinese yet less expensive than Western models?
If the answers to the above are yes, then we have business to do!
The GlobeCore UVR system is your ideal solution!
What does it take to install a UVR system at your facility?
Visit the website and select the most comfortable option for a query and information about the product

Call us and we will answer any questions you may have
Write or call us in Skype: see button on website's header

Contacts us by email

We will offer you options and prices, inform you of projected manufacturing, supply and shipment time.

If you so wish, we will set up a meeting and demonstration of the UVR fuel purification system at the factory.

The unit will be manufactured and supply, then started and commissioned, and your personnel will be trained to operate it.
GlobeCore UVR advantages:
Modern design and world class quality
Competitive price
Qualified engineering support
Quick manufacturing
Improved oxidation stability of processed fuel
Minimal energy consumption (high energy efficiency)
High tech equipment and professional staff (over 200 employees) make it possible to manufacture products in the least amount of time
Versatility of the UVR system allows processing of various types of fuel and regeneration of various types of oil without the need to reset or readjust the system
Adjustable capacity of the unit for flexibility of operation
Full automation of fuel lightening or oil regeneration processes
Component parts from the world's leading suppliers
Flexibility of ambient temperature range, (various operational conditions, the containerized unit may be insulated optionally)
Optional soundproofing and thermal insulation
What happens from the moment we meet to commissioning of the equipment:
Initially we study the task at hand and the specifics of operation of the equipment, if any, in your process. A detailed technical assignment, or a detailed inquiry, or experiments made at our factory with your oil and our UVR-L test bench are of great help at this point. We will also contact you by phone to discuss each and every detail. Besides, we have a vast number of test reports for many various types of oil received from many laboratories and research institutions. We have had many experiences so far: ideally, a stock unit will fit your purposes, in which case the only things to do is pay for it and ship it. Sometimes a detailed discussion dictates an entirely different system, such as a CMM-R, CMM. In some cases we design a unit with options and capacities specified by the customer.

When the designed makes a decision on which specific unit works best for you, a company representative sends you an official offer with a description of the model, its price, term of production and shipment, commissioning and startup.

At this stage customer representatives often wish to visit the factory for a close look. If you are coming from abroad, we will assist with visa applications, set up a tour and lodging, show the equipment being assembled and in storage and will also explain how your unit is different, if any customization options are selected. We recommend you bring samples of your material (oil or fuel): it is always a very good way to demonstrate the process by running the samples through the smaller UVR-L test bench system to improve color, purify or regenerate the liquid which can immediately show you the result of such process on your specific material. We also offer a hospitality program for our guests, which you will learn more about when you are here.
A contract is signed and the product is paid for.

GlobeCore completes the order, which includes manufacturing, testing, delivery, certification, customs clearance etc.

In the meantime the customer prepares the site for installation of the unit and communication connections.

Should commissioning assistance be necessary, GlobeCore professionals will visit your facility, install the unit and train your personnel and test the operation of the unit in your production process.
The result?
Absolutely no delays or negligence.
A turn-key solution.
You get a fuel lightening system which function as per specifications, precisely on schedule and without hidden costs.
Our location.
Production facility location: Oldenburg, Germany.
Representatives:
USA. 1130 S. Flower St. Suite 406. Los Angeles, Ca.
Product ships worldwide.
Warranty period is 12 months from date of dispatch from our warehouse.
UVR-450/16V (ex-proof) system, lightening of gasoline, gas condensate kerosene, dark diesel and heavy fuel oil lightening, nominal throughput – 700 liters per hour
№

Parameter

Value

1

Regeneration throughput, m3/hour:

UVR-450/6

UVR-450/16

UVR-460/16/K

UVR-460/16/V

– transformer oil

– turbine oil

– industrial oil

– heavy fuel oil (oil based)

– dark diesel fuel

– dark gas condensate

0,1

0,1

0,15

0,25

0,25

0,30

0,28-0,3

0,28-0,3

0,28-0,3

0,6-0,8

0,6-0,8

0,7-1,1

0,28-0,3

0,28-0,3

0,28-0,3

0,6-0,8

0,6-0,8

0,7-1,1

0,3

0,3

–

0,6-0,8

0,6-0,8

0,7-1,1

2

Regeneration media consumption in % of processed product weight

– transformer oil

– turbine oil

– industrial oil

– heavy fuel oil (oil based)

– dark diesel fuel

– dark gas condensate

3-17

3-17

3-17

2-15

1-7

1-5

3-17

3-17

3-17

2-15

1-7

1-5

3-17

3-17

3-17

2-15

1-7

1-5

3-17

3-17

–

5-20

1-7

1-5

3

Weight of regeneration media

– on regeneration pod, kg

– total, kg

20 (35)

200 (300)

20 (35)

400 (600)

20 (35)

400 (600)

20 (35)

400 (600)

4

Losses (product) % of initial volume(retained by sorbent media)

– transformer oil

– turbine oil

– industrial oil

– heavy fuel oil (oil based)

– dark diesel fuel

– dark gas condensate

1-6

1-6

1-6

1-6

1-6

1-6

1-6

1-6

1-6

1-6

1-6

1-6

1-6

1-6

1-6

1-6

1-6

1-6

1-6

1-6

1-6

1-6

1-6

1-6

5

Total heater power, kW

1,98

5,28

5,28

–

6

Rated power, kW

5

8

13

8

6,1

Power consumption without heating kW/h

3

2,72

7,7

5

7

Filtration rating, micron

– inlet filter

– outlet filter

25 (10)

5 (3)

25 (10)

5 (3)

25 (10)

5 (3)

25 (10)

5 (3)

8

Power supply voltage, 50Hz AC, V

380

380

380

380

9

Dimensions, mm

– length

– width

– height

1 block

2600

1400

2030

1 block

4800

1480

2140

container

6060

2590

2440

1 block

4800

1480

2140

10

Weight, kg

1340

2550

5400

3400
Call now to discuss applicability and placing the order: +38 050 52 10 300
Frequently asked questions:
Can any UVR model regenerate and restore various oil products? Yes, all units are versatile and any model can regenerate and restore any oil product, however, there are certain requirements and preferences, for instance, for processing of gas condensate, gasoline and other volatile products, the UVR-450/16V is the preferred model, since it is intrinsically safe (explosion proof).

Can the UVR system purify, lighten and remove odor (aromatics) from various types of oil products and which oils it regenerates to what degree? Almost any light and dark oil products can be processed: the system can purify and lighten heavy fuel oil, dark diesel fuel, gasoline, gas condensate and other light fractions. Bring a sample of your product so that we can run a test with our test bench system and calculate economic efficiency for your specific product. The system can purify any dark oil product or oil.

Construction material Stock units: carbon steel; some elements made of stainless steel.

Power consumption Total power consumption: 5 kW for UVR-450/6; 8 kW for UVR-450/16, UVR-450/16V; 13 kW for UVR-450/16K.

Shipment options and terms The product ships globally by any suitable means of transportation, by land, sea or air.

Manufacturing time From 20 to 30 business days, with the exception of already manufactured products in stock and nearly complete units.
Client opinions about our products: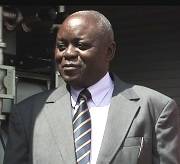 Mr. Shekanabo, the United Republic of Tanzania:
"I can only say good things about GlobeCore mills. After seeing the production facility, I had no doubts that this is a serious and reliable company with professional staff, and the system works like a clock. Of course, the production itself seems complicated, but the equipment is powerful and rugged."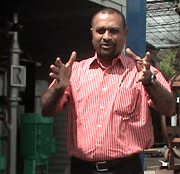 Mr. Patel, the United Republic of Tanzania:
"I want to wish GlobeCore success in the future and I think we will maintain our cooperation for many more years. May you have as many successful products and new developments as possible."
Mr Janaki Ram, India
"The results of purification and lightening of petroleum products are amazing. We have already purchased and will continue to expand our stock of UVR units."